How to Speak and Write Correctly: Study Guide (English + Dutch)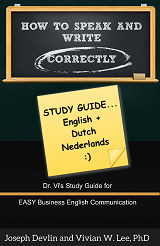 How to Speak and Write Correctly: Study Guide (English + Dutch)
By Joseph Devlin and Vivian W Lee (2015)
Learning the Art of English Language from an ESL Student to a Master Copywriter
BONUS: Dr. Vi's Study Guide for EASY Business English Communication
This is a book summary for the master copy "How to Speak and Write Correctly" by Joseph Devlin and Vivian W. Lee (2015). This complementary study guide is translated into 16+ written languages.
Each study guide has a 3-page colored infographic, English book summary by chapter, translated book summary by chapter, a 5-week learning schedule, two mini quizzes, and many FREE e-Articles on self-help business writing tips online.
When you can communicate clearly and concisely in English speaking and writing, you gain valuable lifelong skills to resolve social conflicts, conquer business challenges, and overcome cultural barriers.
Buy this Study Guide with the Annotated copy today
to quickly improve your English communication skills within FIVE weeks.
ISBN: 9780994043078 (smashwords, epub3)
ISBN: 9781987918403 (amazon, kindle)
ISBN: 9781987918168 (paperback at Blurb bookstore)
ISBN: 9781987918786 (paperback at Ingram global)
DIGITAL version is available at:
PRINT version is available at:
DIGITAL PDF version is available for you to purchase at a bundle price or a license fee
with up to FIVE (5) days to download twice (2X) for your personal devices
(e.g., desktop computer, laptop, tablet, mobile phone) here: