ChineseSchool2Go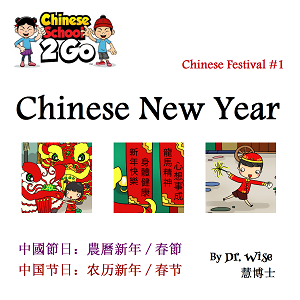 Chinese Festival Series
has EIGHT ebooks:
Chinese New Year

Lantern Festival

Qing Ming Festival

Dragon Boat Festival

Double 7th Festival

Mid-Autumn Festival

Double 9th Festival

Winter Solstice Festival
Visit www.ChineseSchool2Go.com for the latest book launch and promotional updates.
Learn about Chinese Festivals these TRI-lingual ebooks!
Read in color coding text:
English (black), Chinese Traditional (purple) and Chinese Simplified (red).

Learn how to say simple and meaningful Chinese New Year greetings

Check out all the mini games on NUMBERS, COLORS, SHAPES and SIZE
Who would love these ebooks?
Parents: download a copy to share with your kids

Grandparents: download a copy to share with your grandkids

Teachers: download a copy to share with your students today
DIGITAL version is available at:
PRINT version is available at: